K-SURE. Receiving a 2022 Presidential Citation for Shared Growth of Large SMEs
Date :

2022.11.15

Views :

1681
- A Remarkable Achievement following the Highest Rating in the Assessment of the Mutual Growth of Public Institutions in Apr. 2022.
- Helping Domestic Corporations to Enter the Global Markets through Win-Win Cooperation Such as Taking the Lead in Overcoming Crisis Faced by SMEs & Providing Preferential Treatment for Novice Exporters
■ The Korea Trade Insurance Corporation ("K-SURE") has stated that it was awarded a Presidential Citation for Mutual Cooperation of Large and Small and Medium-sized Corporations at "The 2022 Commemorative Event of the Shared Growth Week" hosted by the Ministry of SMEs and Startups, and organized by the Korea Commission for Corporate Partnership, and the Foundation for Large and SMEs and Agriculture and Fisheries.
○ The mutual growth week commemorative event of this year marking the 19th anniversary is held on every first week of November for the purpose of diffusing the culture of win-win growth between large and SMEs and expanding social interests on mutual growth, and prizes are awarded to institutions and individuals for their merits.
○ Previously, K-SURE received highest rating in the category of shared growth of public institutions assessed by the Ministry of SMEs and Startups in April, and has been positioned as a state-own enterprise solidifying the foundation of export economy based on win-win cooperation.
■ This award winning has been made in recognition of its endeavor to have supported rapid recovery and growth of SMEs particularly vulnerable to external crisis including the Covid 19 aggravation and Russian-Ukraine war by offering various customized support schemes to SMEs.
○ Last year, K-SURE helped to inject liquidity through supplying trade insurance of 66.6 trillion won, the maximum volume in history to approximately 30,000 SMEs, offered preferential treatment for 2,580 enterprises in order to backup safe global market expansion of novice exporters, and provided 596 cases of professional export and import, and legal consulting services.
○ In addition, K-SURE has continued to make efforts for setting up a win-win culture and creating an environment of mutual growth such as introducing a win-win payment system for the improvement in the payment environment of our partner SMEs, and holding a counseling session for state-owned institutions for SME's market expansion
■ Against the backdrop of export environment getting exacerbated due to recent global economic slowdown, K-SURE, has a plan to further augment the assistance for surmounting crises through preparing new schemes including introducing export growth financing for the sake of strengthening SMEs' export competitiveness, coming up with measures to support the import of raw materials, and implementing guarantees for SMEs.
■ Mr. Inho Lee, Chairman and President of K-SURE, said, "Garnering this prize is K-SURE's meaningful achievement obtained by solidifying the internal stability of our economy and tiding over crises with small and medium sized exporters with the spirit of win-win and cooperation."
○ He also expressed his feelings on winning the award, "Going forward, we will do our utmost to become a leading institution of the shared growth, holding out our hands when SMEs are in need, and maintaining to keep hold of them to the end."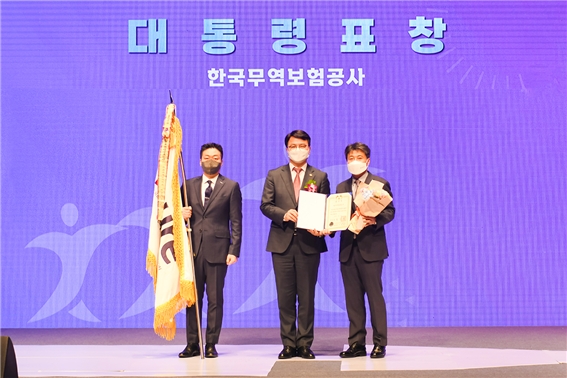 * Mr. Jin-sik Park, Executive Director of K-SURE, taking a commemorative photo at the 2022 commemorative event of the shared growth week hosted by the Ministry of SMEs and Startups and organized by the Korea Commission for Corporate Partnership, and the Foundation for Large and SMEs and Agriculture and Fisheries after receiving a Presidential Citation for the win-win growth of large and small and medium sized corporations.


Point of Contact : Public Relations Department