Export Bond Insurance
HOME
Export Bond Insurance
This product covers losses suffered by financial institutions in case exporters default on redeeming their bank guarantees issued by financial institutions for export transactions.
Overview of Scheme
This scheme is to indemnify losses of financial institutes caused as financial institutes issue export guarantees in relation to export transactions, receive requests for discharge of guaranteed liabilities from importers (buyers), and implement the discharge.
In international transactions, importers request exporters to submit export guarantees issued by financial institutes as a guarantee for export implementation.
Export bond insurance is an export support system to help exporters conveniently obtain export guarantees by compensating for losses of financial institutes issuing export guarantees that are caused as financial institutes make substitute payments upon receipt of requests for discharge of guaranteed liabilities (bond calling) from the beneficiaries (importers or buyers).
Types of Export Guarantees
| Category | Description |
| --- | --- |
| Bid Bond | Guarantee for buyers to request payment in bidding-type transactions where bidders, following successful bids, do not respond to contract conclusion, or fail to submit a performance bond within a set period of time after the contract conclusion |
| Performance Bond | Guarantee issued for compensation of losses of buyers caused as exporters that have entered into industrial facility export contracts or overseas construction work contracts do not perform their contractual obligations |
| Advanced Payment Bond | Guarantee to claim return of advance payments to exporters if they do not implement the export following receipt of advance payment |
| Retention Bond | In an interim payment-based export transaction, the importer reserves a part of the interim payment at each completed construction stage in preparation for the risk of the exporter being unable to complete the construction work. The exporter submits the guarantee in order to receive payment of an amount equivalent to the reserve amount. |
| Maintenance Bond | Guarantee issued to cover losses caused by defects occurring in finished facilities or buildings during a set period of time from the completion of industrial facility installation or overseas construction work |
Product Structure
For financial institutes : In case the insurance policy holder is a financial institute issuing a guarantee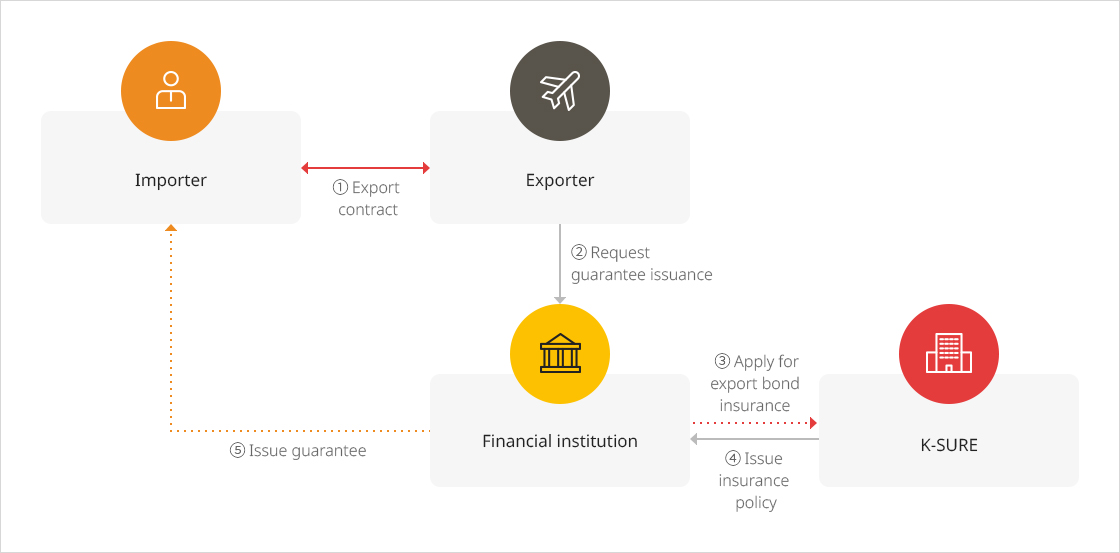 Large view of images
For exporter : In case the insurance policy holder is the exporter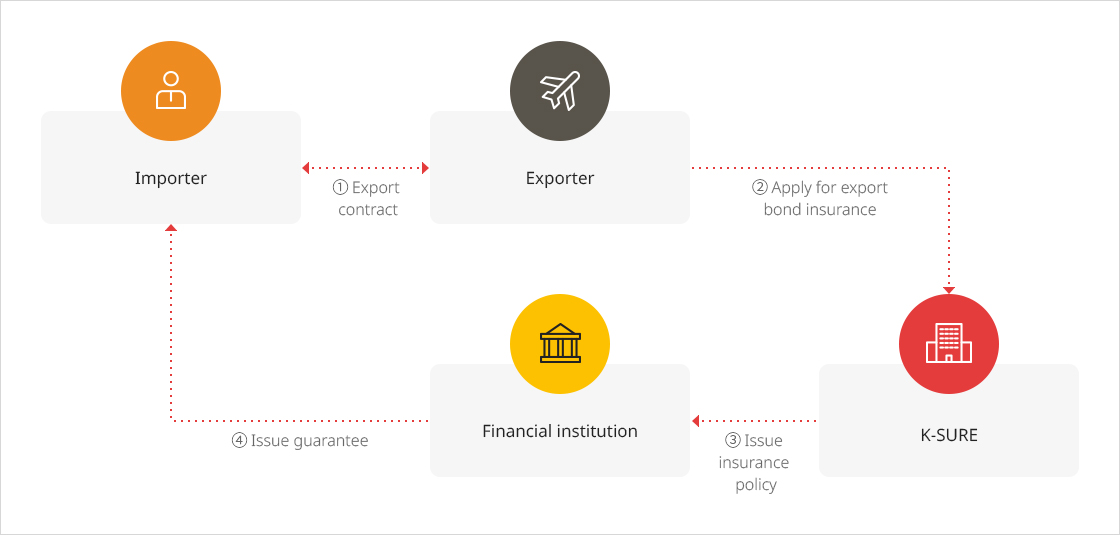 Large view of images
※ Export Bond Insurance for exporters has the characteristic of an insurance contract for financial institutes as the insured
Target Transactions
Overseas construction work under the Overseas Construction Promotion Act
Export under the Foreign Trade Act (excluding intermediary trade and overseas consignment export)
Export of other services
Point of Contact : Project Finance Coordination Department