Export Credit Guarantee (Post-shipment)
HOME
Export Credit Guarantee (Post-shipment)
This product functions as security for exporters receiving export proceeds early from F/X banks that purchase export proceeds from the exporter based on shipment documents including bills of exchange after the shipment of goods.
Overview of Scheme
This is a scheme for K-SURE to provide a joint guarantee when an exporter ships export goods according to an export contract, and a financial institute purchases (negotiates) the export receivables based on the shipping documents, such as a bill of exchange.
As an exporter receives export proceeds in advance from an exchange bank based on the shipping documents, such as a bill of exchange, after exporting goods through a credit transaction, it produces the effect for the exporter to receive the export payment concurrently with the export.
However, as the exchange bank pays the proceeds with its own funds, it generally requires a security. K-SURE's export credit guarantee(post-shipment) serves as the security.
In other words, if a bank paid export proceeds in advance through the purchase of shipping documents with the export credit guarantee (post-shipment) as the security, but the importer fails to make the payment on the due date, the damage is compensated for by K-SURE.
Product Structure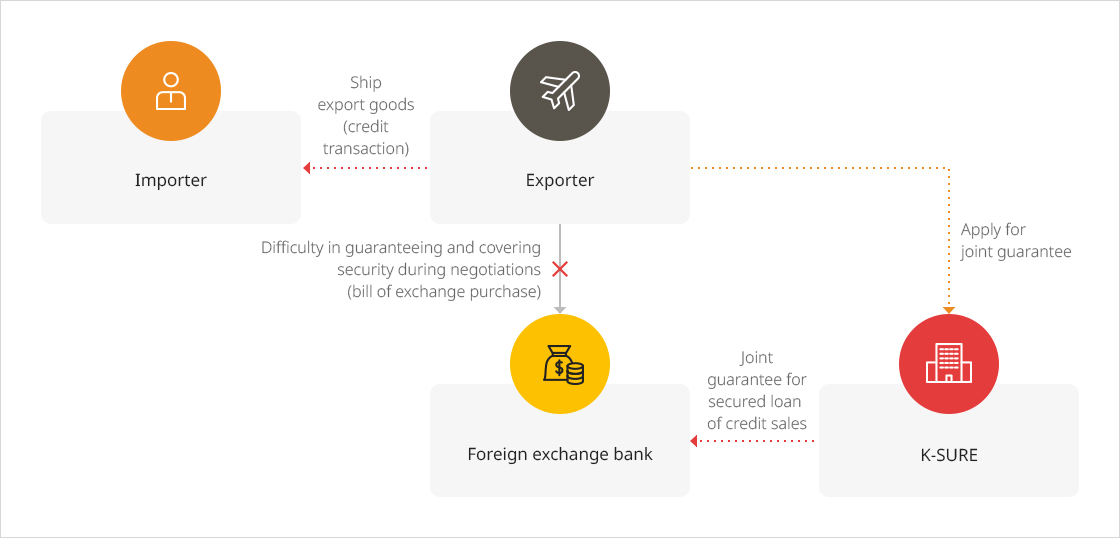 Large view of images
Target Transactions
General export, Consignment Processing Trade transactions within two years of the settlement period
| Category | Description |
| --- | --- |
| General export | Refers to exports of domestically manufactured goods from Korea to foreign countries or those purchased by domestic manufacturers |
| Consignment Processing Trade | Transaction to export goods manufactured and processed by a local subsidiary of a domestic country operating in an overseas country, or goods processed in a third country through consignment to a company based in the respective country directly from the third country to an importing country |
Point of Contact : Business Coordination Department