Overseas Construction Works Insurance
HOME
Overseas Construction Works Insurance
Overview of Scheme and Product Characteristics
This scheme is to cover losses caused by the occurrence of commercial risk in the other party of an overseas construction contract, or the occurrence of political risk in the country ordering overseas construction work or the country making payment for the construction work.
As overseas construction work accompanies not only commercial risks of default and bankruptcy of the buyer, but also the possibility of force majeure and political risks between the contract parties, such as war, strife, riot, or restriction and prohibition of foreign exchange transactions in the ordering country or country making payment, overseas construction works insurance is aimed at protecting the party that received the order for overseas construction work from such risks.
This scheme plays the role as coverage for risks that may occur as a result of construction and engineering services export and losses of the related equipment brought in for execution of the export.
Product Structure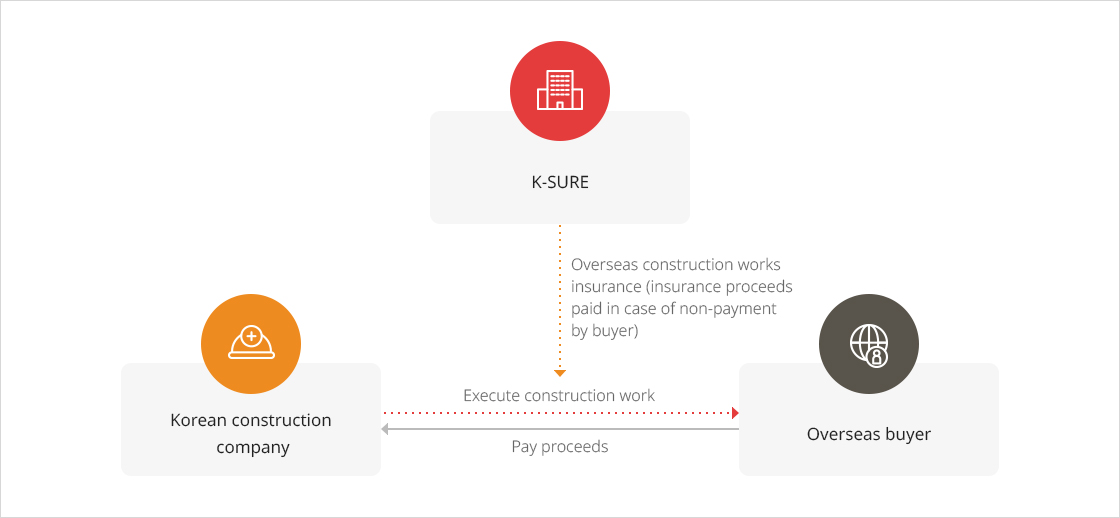 Large view of images
Target Transactions
Construction and Engineering Services : Overseas construction work and overseas construction engineering activities under the Overseas Construction Promotion Act
Construction equipment : Tangible fixed assets, such as construction machinery and other mechanical equipment, vehicles, and transportation equipment that are directly used in overseas construction work and rights to such assets
Point of Contact : Project Finance Coordination Department